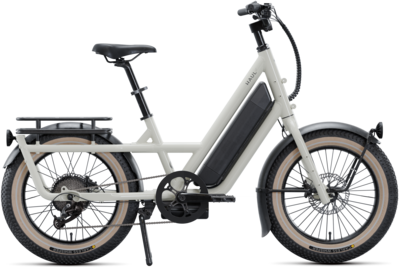 Designed for whatever you're into, get more into it with the Specialized Globe Haul ST. With more power, more cargo, and more options, this fully customizable electric bike can haul up to 419 pounds including bike and rider and up to 60 miles with a standard sized rider. Plus, with a standard rear rack, integrated front and rear lights, and numerous accessory mounts, you can arrange your ride for any errand at any time — day or night. - High power, 700w rear hub motor delivers enough power to get you and all your gear up steep hills and all the way across town at top speed. The 772wh battery provides enough juice to tackle the biggest missions with up to 60 miles of range. - Unique, single-size frame fits riders from around 4'5" all the way up to 6'4". The telescoping seatpost has over 13 inches of adjustability, and the quill stem can extend almost 6 inches to provide comfort to almost every rider measured in our Retul database. - 20" diameter wheels help keep weight low to the ground for improved stability. The extra wide 3.5" Carless Whisper tires provide comfort and traction on any terrain and feature a 3-ply casing for superior flat protection. - Globe Haul ST comes out of the box ready for any task with an included MIK-compatible rear rack, full-coverage fenders, integrated lights, and a center stand. The additional accessory mounting points and a full suite of Globe equipment means you can customize your ride to your specific needs.
Como is a laid-back, comfortable e-Bike with the power of a confident ride. Como lets you go with the flow by giving you a full-power, confidence-inspiring, utterly delightful experience on a bike that feels effortless to ride. - Turbo Full Power 2.2 motor and 710Wh battery offer an unparalleled riding experience, providing a smooth, seamless, and shockingly quiet amplification of your efforts, up to 28 mph. The integrated controller responds to your pedal inputs resulting in intuitive amplification of your efforts with an incredibly natural feel. - MasterMind and Mission Control - The MasterMind display reveals all relevant info about your ride, allows real-time tuning of support levels, and enables over-the-air updates so that your bike gets better over time. MasterMind seamlessly integrates with the Mission Control app for range optimization tools, advanced tuning, on-ride diagnostics, and more. - The enviolo AUTOMATiQ Internal Gear Hub (IGH) stepless shifting technology automatically shifts gears based on a rider's pedal pace, taking changes in the surroundings into account. By selecting a preferred cadence or pedal pace, it allows riders to "set it and forget it", adding an extra layer of safety and comfort for riders. - Proven Smooth Efficiency - We designed a custom testing mechanism to analyze bumps at even the smallest frequency to increase comfort and vision. That precision, paired with a suspended seatpost, higher volume tires, and an 80 mm suspension fork, will flatten roads before your eyes. - Turbo System Lock - Use the Mission Control app to disable your bike's motor and activate the motion sensor alarm. Once locked, the motor cannot be enabled again except by the owner. - Garmin Radar - An integrated Garmin Radar sensor lets you know when traffic is coming up behind you. Garmin's Radar technology can detect cars up to 140 meters away. MasterMind will give riders a visual, audible, and haptic alert of an approaching vehicle's relative distance and rate of speed. - Fully Integrated Removable and Lockable Downtube Battery - Easy to charge, easy to secure. - Equipped with DRYTECH Fenders, LED front and rear lights, and 27kg capacity rear HD Rack. The rear rack is compatible with child bike seats, and the bike is also rated to pull a thru-axle trailer
What happened when we brought our perfectly balanced Super Light system to our popular Turbo Como E-bike? The best combination of power, range, usability, and comfort in a bike that weighs 40% less than the average e-bike. The Turbo Como Super Light (SL) is designed for running around town and beyond. Able to carry twice its weight in cargo, it's a surprising errand bike that's as exciting to ride as it is easy to own. Riders will love the low-maintenance easy-ownership that comes with our first Internal Gear Hub and Belt Drive E-bike. This system protects your bike's working gears from the weather and road grime, extends their life up to four times that of a derailleur/chain drive, and eliminates chain grease completely. And you can shift gears anytime, yes, even when stopped-take that traffic lights. The Turbo Como Super Light's sophisticated design is ready to go whenever you are-day and night, rain or shine-with battery-powered integrated lights, fenders, and plenty of storage capability. The 320Wh battery is securely hidden in the downtube, making it almost indistinguishable from a regular bike at first glance. But on days when you want to do more, attach the optional Range Extender to go up to 120 miles before needing a recharge. Trust us when we say, you'll find yourself making up errands just so you can ride it again. - 8-speed Alfine Internal Gear Hub and Gates Belt Drive for shifting when stopped, extended bike performance, and minimal at-home bike maintenance. - Fully integrated Specialized 320Wh downtube battery w/optional Range Extender compatibility for up to 120 miles of range. - Specialized SL 1.1 custom lightweight motor, peak 240W /35Nm, 2x you rider amplification (180% assistance), assist up to 28mph. - Bright, integrated front and rear lighting to see and be seen. - Integrated front rack with a basket and top net. - Turbo Super Light mounted pannier-compatible rear rack and DRYTECH fenders. - Turbo Connect Display included and centrally located on the handlebars. - Clean internal cable routing, fender/rack mounts, and reflective graphics. - TRP Flow Set hydraulic disc brakes for maximum stopping power. - Durable 650b wheels paired with Nimbus 2.3 tires smooth out rough roads, while providing BlackBelt flat protection and reflective accents to increase visibility.